ELTS 2015 International Conference on Language, Literature, and Culture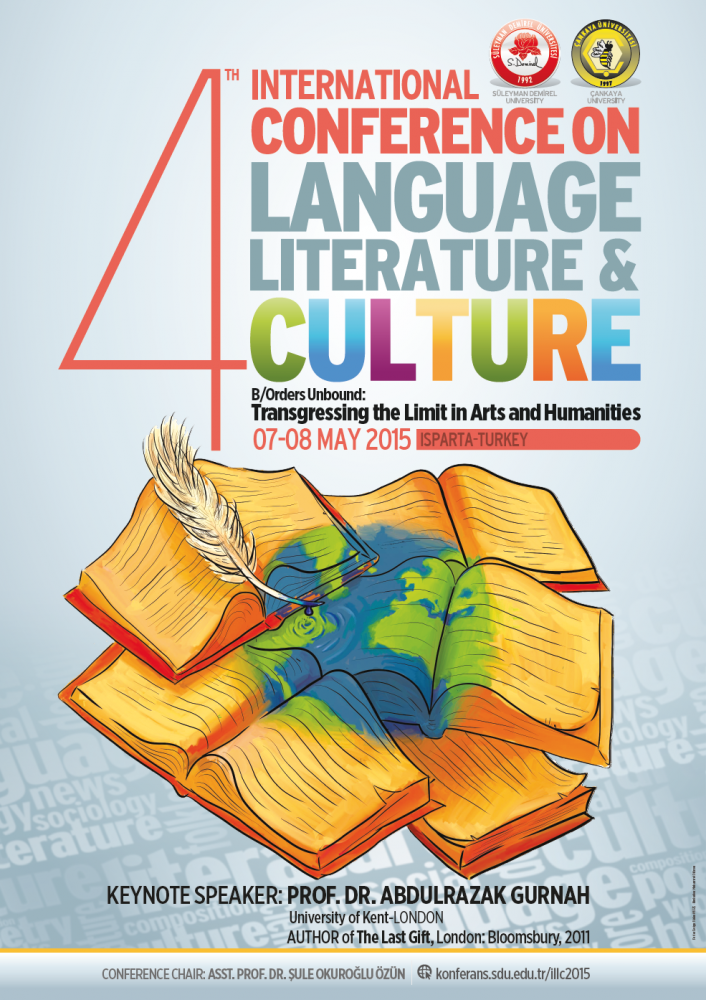 07-08 May 2015 Isparta, Turkey
ELTS 2015 International Conference on Language, Literature, and Culture
This International Conference is an annual academic event organized by Çankaya University in Ankara. This year it will be organized jointly by Süleyman Demirel University (Isparta, Turkey) and Çankaya University (Ankara, Turkey), and will be hosted by Süleyman Demirel University.
you can reach the conference details at konferans. sdu.edu.tr /illc2015/index.htm
B/Orders Unbound: Transgressing the Limit in Arts and Humanities
7-8 May 2015 Isparta, Turkey
The aim of the conference is to bring together researchers, scholars and students from all areas of language, literature, culture and other related disciplines. You may participate as panel organizer, presenter of one paper, chair a session or observer.
A 300-word abstract for a 20-minute paper should be submitted as an email attachment to languageliteratureandculture@gmail.com or suleozun@sdu.edu.tr. In your email, please include your name, affiliation, email address, phone number, title of the paper, and a brief bio data.
Selected papers will be published in a volume.
Should you need further information, please visit the conference webpage at elts.cankaya.edu.tr 
ELTS 2014 Inter-disciplinarity, Multi-disciplinarity & Trans-disciplinarity in Humanities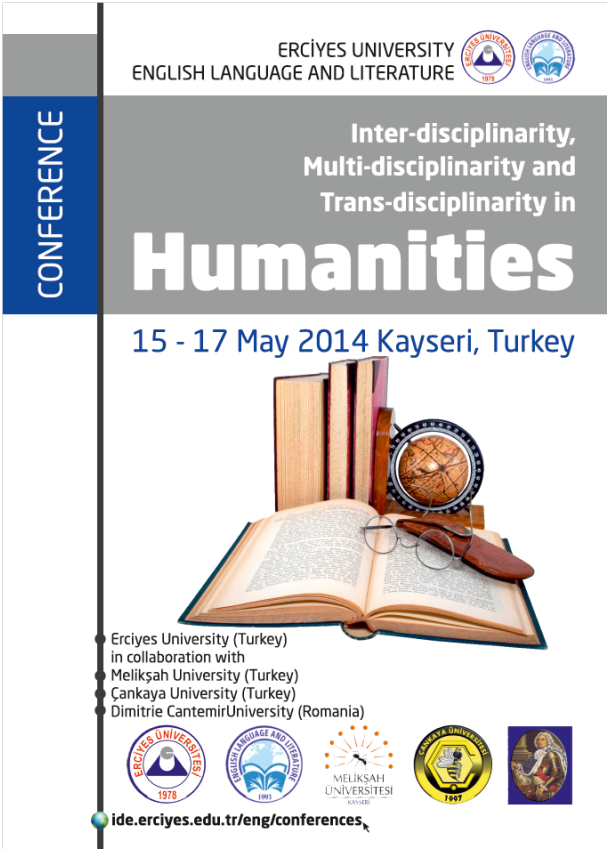 15-17 MAY 2014
PLENARY SPEAKER
Prof. Dr. Kurt Kohn – Eberhard Karls University, Tübingen
Prof. Dr. Kurt Kohn's research interests focus on theoretical, empirical and pedagogic issues of second language learning and teaching, English as a lingua franca communication, discourse comprehension, translation and interpreting, and intercultural communicative competence.  In his overall approach, he takes a communicative and social constructivist perspective with an emphasis on case studies and introspective methods.  Since the early 1990s, he has been involved in European projects on computer-enhanced language learning and teaching, with a special focus on free content authoring, learner and teacher autonomy, authentication, and blended language learning.  He is co-developer (with Petra Hoffstaedter) of the language learning and authoring software Telos Language Partner and has co-authored a large number of multimedia and web-based language learning packages mainly for English, French and German.  His more recent European research activities concern the development of pedagogically designed language corpora for content and language integrated learning as well as the use of web collaboration tools for language learning and intercultural communication.
KEYNOTE SPEAKER
Prof. Dr. Nabil Matar – University of Minnesota
Nabil Matar's research and teaching are in the areas of English seventeenth-century religious literature, British-Islamic relations, and Arabic writings on Europe in the early modern period. He started his career by teaching at the University of Jordan (1975-77) and at the American University of Beirut (1978-86). In 1977-78, he received a British Council grant to Clare Hall, Cambridge, and in 1982, a Fulbright grant to Harvard Divinity School. In 1986, he moved to Florida Institute of Technology where he became Professor of English in 1988 and Head of the Department of Humanities and Communication between 1997 and 2007. In Fall 2007, he began his tenure as Professor of English at the University of Minnesota.
ELTS 2013 Conference on Translation Studies and Literatures in English
13-14 MAY 2013
Keynote Speaker Prof. Dr. Patrick Quinn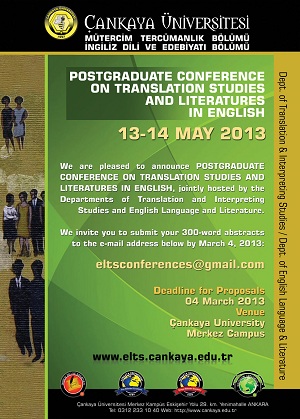 PostGraduate Conference on Translation Studies and Literatures in English 2013 from Çankaya Üniversitesi on Vimeo Click to watch Prof. Dr. Patrick Quinn's talk titled "For a Botched Civilization: English Soldier Poetry and the Great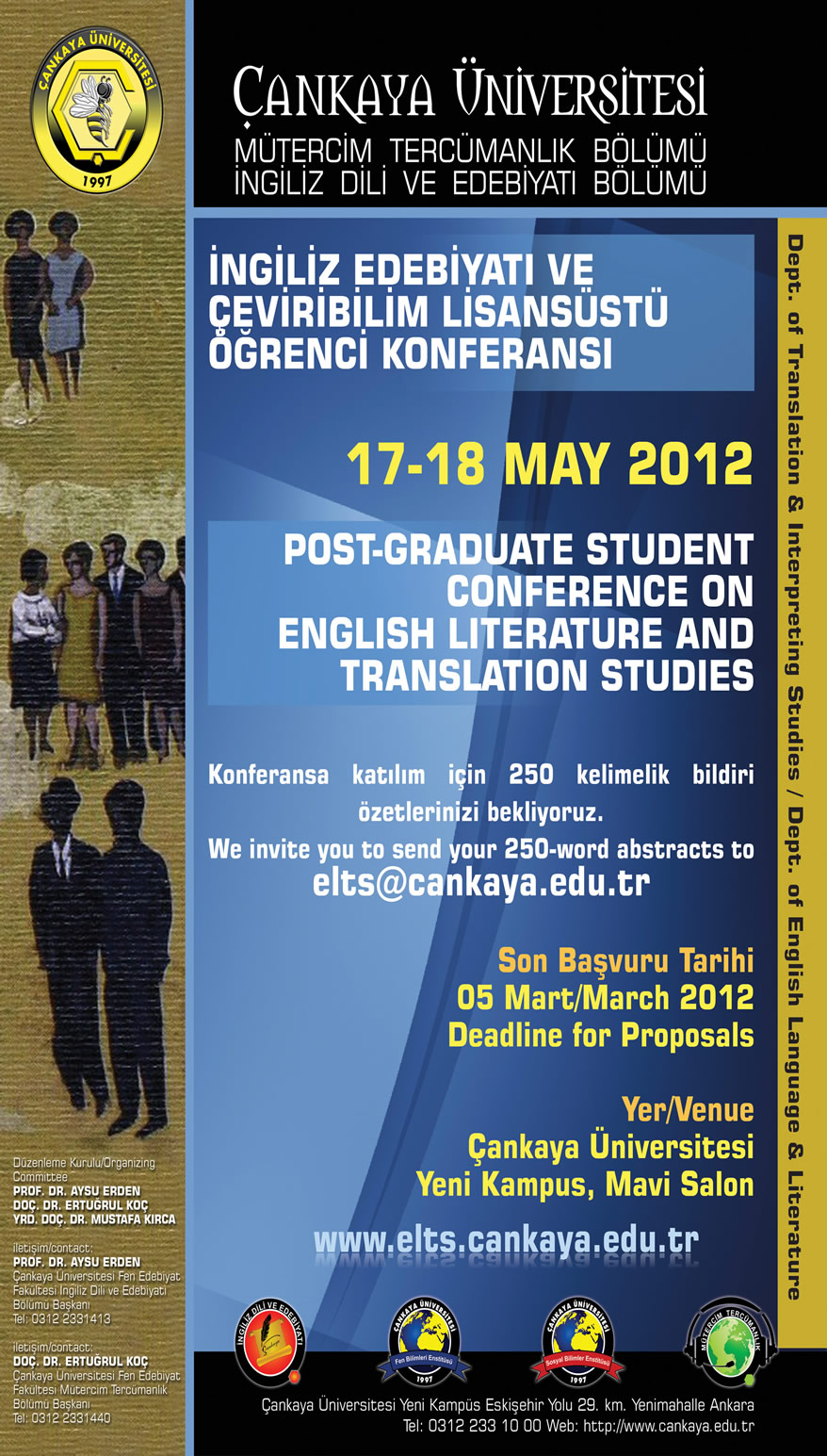 ELTS 2012
Lisans ve lisansüstü öğrencilerin katılımlarıyla gerçekleştirilen uluslararası konferansımız, Mütercim-Tercümanlık, Çeviribilim, İngiliz Dili ve Edebiyatı, Amerikan Kültürü ve Edebiyatı, İngiliz Dilbilimi ve Karşılaştırmalı Edebiyat, vb. alanlarda eğitim yapan öğrencilerin, eğitimleri süresince ürettikleri akademik çalışmalarını paylaşabilecekleri, bu alanlarda yapılan son çalışmalar hakkında bilgi alışverişinde bulunabilecekleri akademik bir platformda bir araya gelmelerini amaçlamaktadır. Hem üniversitemiz bünyesinde bulunan lisansüstü programa kayıtlı öğrencilerimizin, hem de diğer üniversitelerden katılacak öğrencilerimizin, genç akademisyenler olarak akademik tecrübe ve bilinç kazanması hedeflenmektedir. Bu amaçla, ilki 17-18 Mayıs 2012 tarihlerinde düzenlenen konferansımıza yurtiçinden ve yurtdışından pekçok akademisyen ilgi göstermiştir. 2012 yılında düzenlenmiş olan konferansın programına ulaşmak için tıklayınız.
The Organizing Committee
Prof. Dr. Aysu ERDEN
Assoc. Prof. Dr. Ertuğrul KOÇ
Assist. Prof. Dr. Mustafa KIRCA